You Can Still Shop At Costco Without A Membership. Here's How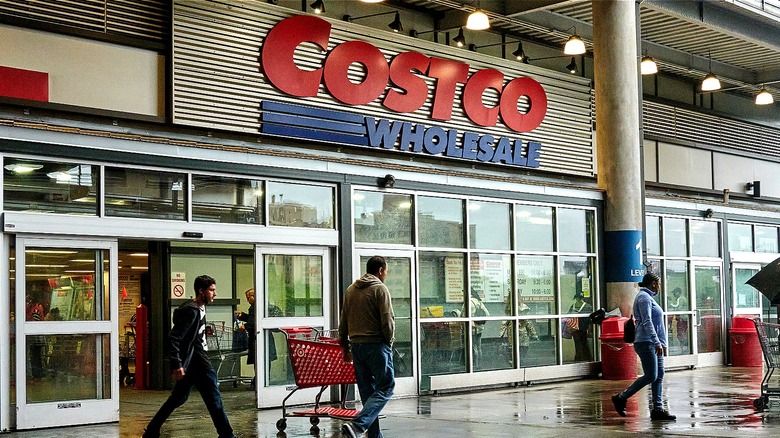 Bloomberg/Getty Images
Warehouse club Costco is responding to the growing trend of its members sharing their cards with non-members. The company's plan to clamp down on unauthorized users shopping its stores — who typically use the self-checkout kiosks — is to focus on checking IDs. To be clear, Costco members can rightfully share their membership with one other person, but this person must live in the same household as the member (and be over 16 years of age), or work at the same company. These added members also must get their picture taken and be issued their own Costco card. But what of actual non-members with no card of their own? Can you still shop at Costco without a membership or a designated card? The short answer is yes.
Advertisement
If you don't want to purchase a Costco membership — which starts at $60 per year — you can still buy your bulk toilet paper, cheap rotisserie chickens, or 60-pound bucket of honey using a few clever workarounds. The first is to shop online at Costco.com; however, do be prepared to pay higher prices than those available to Costco members. According to the Costco website, non-members pay a 5% surcharge on most goods, with the exception of prescription drugs. Note that non-members may only shop at Costco.com, not in the physical store, and that certain members-only exclusive deals are excluded from purchase altogether. With this said, how do non-members shop in person at Costco? There are a few ways.
Advertisement
Gift cards will get you in the door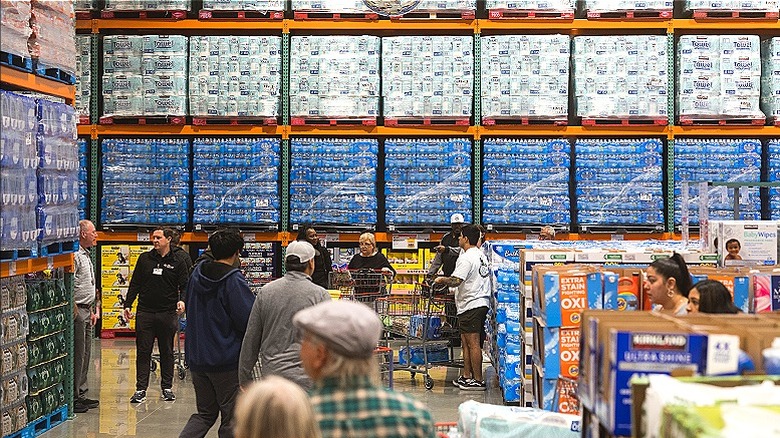 Bloomberg/Getty Images
Another popular way to shop at Costco — including its physical warehouse clubs — without a membership is to make use of gift cards, which the company calls Shop Cards. The only catch is that Shop Cards may only be purchased by members, so you'll either need to legitimately receive one as a gift or else be acquainted with a friend or relative who's a member who might be willing to buy a Shop Card on your behalf. Once in possession of a Shop Card, you can flash it at the warehouse's entrance and be granted admission just as if you're a member.
Advertisement
Another way? Costco members are allowed to bring two guests into the store with them per visit; although technically, only the Costco member is allowed to pay for purchases. Depending on your relationship with the member, it would certainly be possible to split the bill after leaving the store and reimburse the paying member via a peer-to-peer money app like Venmo or Cash App, or with good old cash.
Note, the membership fee is refundable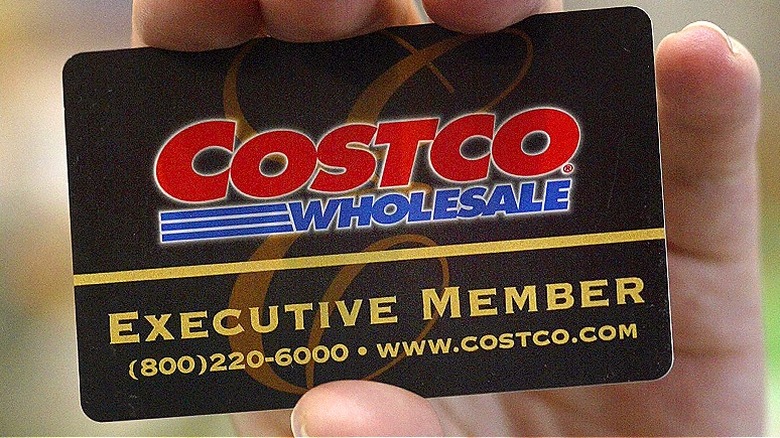 Tim Boyle/Getty Images
While it's definitely possible to shop at Costco without a membership, it's probably not worth the extra expense and/or hassle of engaging an existing Costco member to do so. That's especially true if you intend to shop there multiple times per year. It's also not the best strategy to pay a 5% premium for items online, with some of the best deals only available to members.
Advertisement
A Costco membership costs $60 per year and is fully refundable at any time. That's right, as Costco states, "We will cancel and refund your membership fee at any time if you are dissatisfied." However, for those who are super satisfied, Costco also offers an Executive membership for an extra $60 per year, or $120 total.
The primary perk of the Executive membership is a reward in the form of a store credit equal to 2% of your annual spending at Costco, including travel. We did the math for you and members will need to spend $3,000 per year to break even on the cost of the Executive supplement. That's a lot of toilet paper. With this said, per data prepared for Insider by Numerator, Costco shoppers spend, on average, $100 per trip, and make about 30 trips a year. Which, when we crunched the numbers again, turned out to be $3,000.
Advertisement