5 Ways A Government Shutdown Takes Money Out Of Your Pocket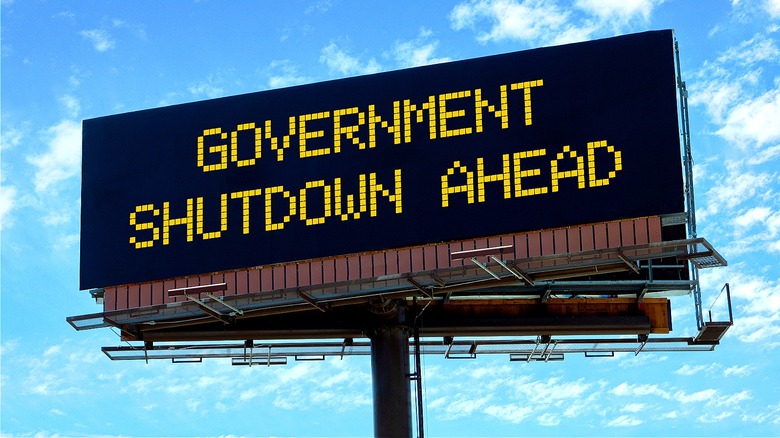 Rix Pix Photography/Shutterstock
In late September, the United States federal government narrowly averted a shutdown with a 45-day "continuing resolution" extension that would later cost House Speaker Kevin McCarthy (R-Calif.) his job when a small group of dissatisfied Republicans lashed out over the agreement. Now, with new Speaker Mike Johnson (R-La.) behind the wheel, that 45-day grace period is nearly over. If a new stopgap measure isn't reached, the government will shut down at 12:01 a.m. Eastern time on Saturday, November 18.
Advertisement
This said, lawmakers took a step toward a continuing resolution (until the new year) on Tuesday, November 14, after the House passed Speaker Johnson's stopgap funding bill by a vote of 336-95 (via The Associated Press). Nearly all Democrats voted for the bill, with only two opposing, while 93 Republicans voted against the bill. It now goes to the Senate for approval, and then to President Biden if the bill passes the Senate.
If a budget-related shutdown does occur, it'd be the 22nd in the past 50 years. Prior government shutdowns have lasted for less than one day and up to 34 days in the case of the 2018-2019 shutdown over the construction of a wall at our country's southern border. As for shutdowns, in the event that one happens, how does it affect you, the consumer? Besides the obvious and visible implications like closing down national parks, what else does a shutdown mean for the financial well-being of you, your friends, or your family members?
Advertisement
Travel delays are likely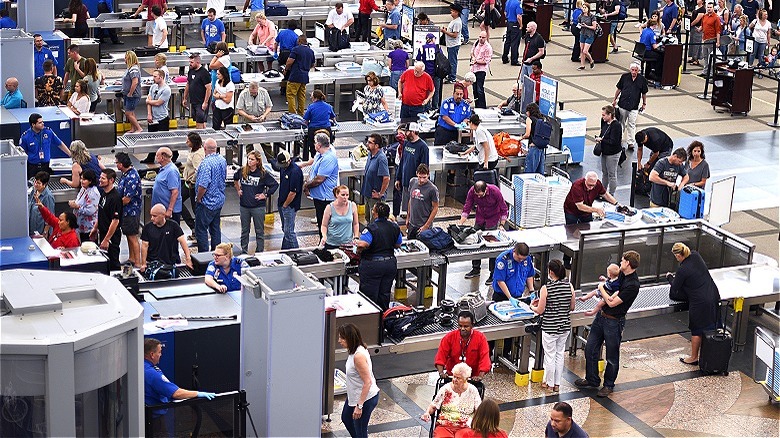 Robert Alexander/Getty Images
If you're traveling by air during a government shutdown, expect delays. That's because more than 50,000 TSA agents and 13,000 air traffic controllers will be asked to continue working without pay until the government is eventually funded. The TSA agents are of particular concern because they're among the lowest-paid government workers, and they may have less of a savings safety net to weather the shutdown without income.
Advertisement
During the 2019 shutdown, large numbers of TSA agents called in sick after missing their first paycheck. Specifically, about 7.6% failed to show up for their designated shifts versus 3.2% that were absent during the same timeframe in the prior year, in which there was no shutdown. That could mean long lines and wait times for security screening at airports across the country, so you'll definitely want to show up earlier than usual for your flight in the event of a government shutdown.
You'll also want to check your flight status regularly for delays because there's already a shortage of air traffic controllers post-COVID and a shutdown will pause the ability to hire and train additional controllers. Note that once the government reopens, both TSA workers and air traffic controllers are made whole with retroactive pay, but that's only a small comfort to workers who are living paycheck-to-paycheck, some of whom started GoFundMe campaigns to make ends meet during prior shutdowns.
Advertisement
Small businesses will get squeezed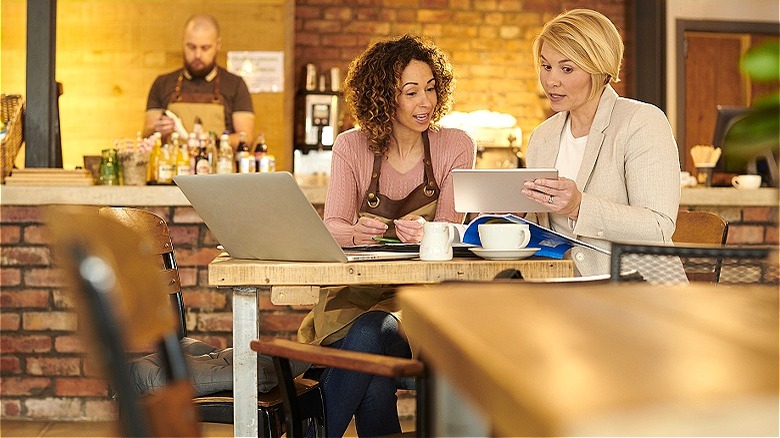 Sturti/Getty Images
According to the U.S. Chamber of Commerce, there are more than 33 million small businesses operating in the United States. A government shutdown could impact these businesses especially hard. Specifically, during a shutdown, the Small Business Administration (SBA) will stop reviewing, processing, and approving new small business loans to entrepreneurs. For small businesses that have an unexpected need for funding during that time, it may force them to seek other short-term loan solutions that carry considerable fees and higher interest rates.
Advertisement
Besides lending money, the federal government is also the largest customer of small businesses. In 2018, for example, the House Committee on Small Business reported that a shutdown could cost business owners more than $301 million per day in federal contracts. Between the lack of borrowing ability and lost revenue from federal clients, a ripple effect is created. Small business employees could be laid off, while large purchases get postponed, affecting other businesses that provide supplies and equipment.
Food assistance programs could pause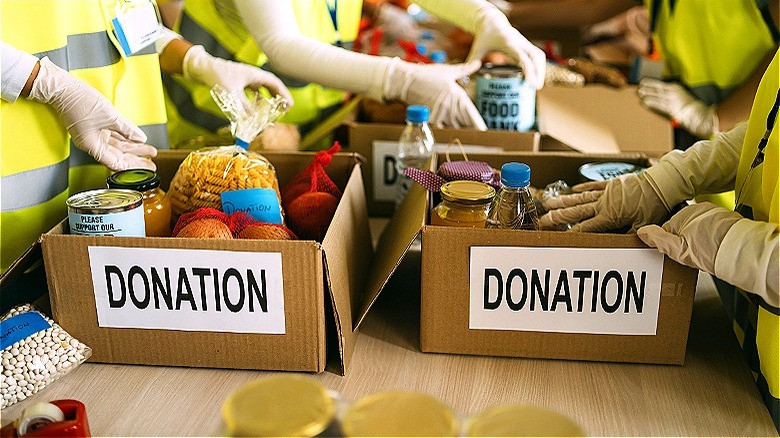 Vladimir Vladimirov/Getty Images
Low-income citizens receiving benefits from food assistance programs like the Supplemental Nutrition Assistance Program (SNAP) wouldn't be immediately impacted by a government shutdown, but a prolonged shutdown could eventually deplete contingency funds. On the other hand, the 7 million women and children who rely on the Special Supplemental Nutrition Program for Women, Infants, and Children (WIC) are more vulnerable. According to the Biden administration, as reported by The Associated Press, that group could lose its funds within days, a situation that will require states to take over to keep the program going.
Advertisement
Although SNAP benefits are better funded than WIC, the 40 million Americans who rely on that program to make ends meet could eventually be in peril if the shutdown drags on for long enough. Furthermore, certain food banks, free or low-cost school meals, and programs like Meals on Wheels — which delivers meals to almost 3 million seniors annually — could lose their federal reimbursements. In aggregate, the cost of groceries for some low-income Americans could rise without help from subsidies, forcing those who can't pay to visit food pantries funded by donations, not the government.
The IRS won't process refunds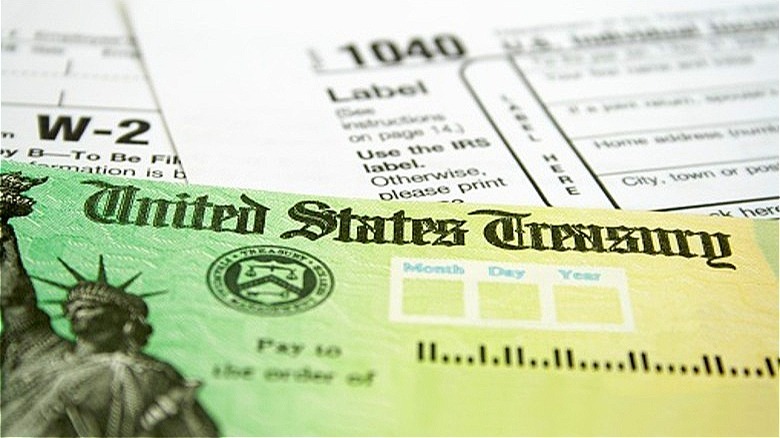 Agshotime/Getty Images
If a government shutdown isn't avoided, the Internal Revenue Service (IRS) is prepared to furlough approximately two-thirds of its workforce, which equates to approximately 60,000 employees. Furthermore, the IRS won't process tax refunds during a shutdown, with the exception of those that can be directly deposited and are accompanied by an error-free tax return that was filed electronically.
Advertisement
The agency will continue to receive mailed correspondence during a shutdown — the Postal Service is self-funded and unaffected by a shutdown — but taxpayers shouldn't expect a response until after the government reopens. Even then, taxpayers should expect a delayed reaction due to the backlog from the shutdown period. Similarly, the IRS won't be answering telephone calls, of which they typically receive approximately 46,000 per day. Finally, the 363 Taxpayer Assistance Centers the IRS operates across the United States will be shuttered.
Previously, America's tax collectors anticipated staying operational during a shutdown by using a portion of the $60 billion in funds granted to the agency by the Biden administration's Inflation Reduction Act. However, further research indicates those funds are severely limited in use and can't be applied to simply maintaining normal operations.
Advertisement
Federal employees won't get a paycheck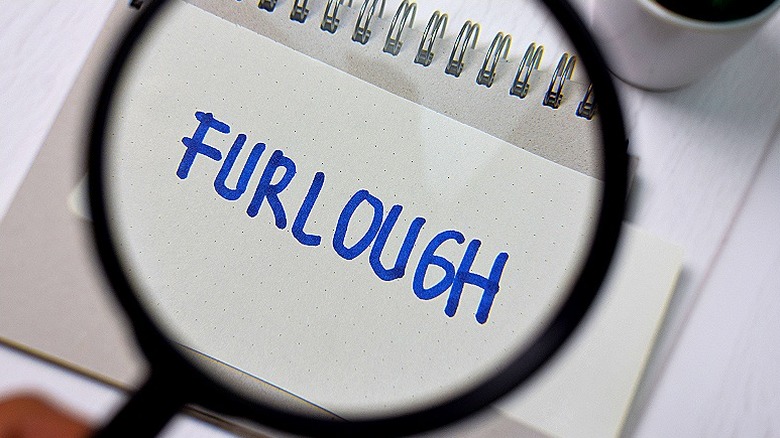 bangoland/Shutterstock
If you or someone you know is a government employee, expect to either be furloughed or in the case of essential workers such as prison guards, asked to work without pay during a shutdown. In contrast to essential (called "excepted") workers, furloughed workers would stay home and not report to their jobs. According to NBC News, the number of affected federal employees is approximately 4 million, including some members of the military.
Advertisement
By law, the government is required to repay employees — even those who stayed home — once funding has resumed, but it can still be a stressful time for workers who don't have a cushion of savings with which to pay living expenses once their paychecks stop. In some states, furloughed federal employees may be eligible to collect unemployment insurance to help with lean financial conditions during a shutdown. However, when the government eventually gets funded and the missed wages are paid retroactively, there will be an overpayment of unemployment benefits that will need to be reconciled according to state or local laws.