This Is The Most Money Ever Won On Jeopardy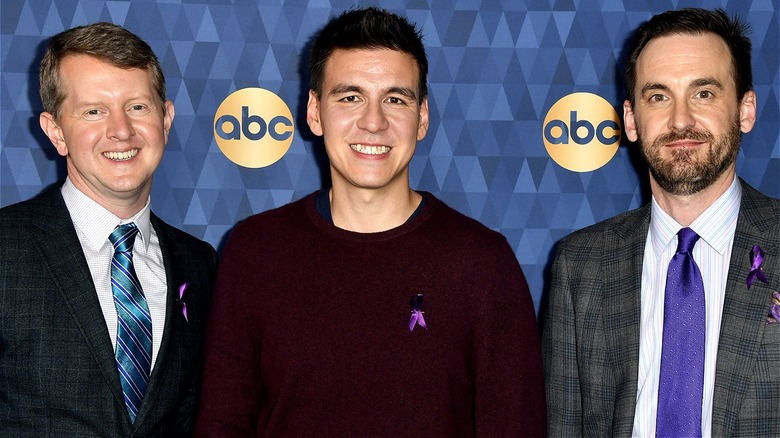 Frazer Harrison/Getty Images
There's no denying the quiz game show "Jeopardy" is an American institution, with roots going all the way back to the 1960s. As such, many "Jeopardy" fans were devastated when longtime host Alex Trebek passed away in 2020. In Trebek's absence, actor Mayim Bialik and former "Jeopardy" champ Ken Jennings were tapped to take turns hosting the answer-and-question show. It's a popular notion that Ken Jennings is the winningest Jeopardy player ever, but is it actually true? Well, it's complicated.
Advertisement
The current producer of "Jeopardy," Sony Pictures, maintains a "Leaderboard of Legends," which nicely summarizes the top 10 winners in multiple categories, including their total winnings and tenure on the show. The highest winnings honors are divided up by regular season games, all-time winnings including tournaments, and the highest amount won in a single game.
Taking a look at the data from Sony, we can see that Ken Jennings has the distinction of the most consecutive games won in a row, with 74 victories. That translates into $2,520,700 won in regular season play, which does indeed make Jennings number one in that category, but it's not nearly the highest amount of money ever won on "Jeopardy."
Advertisement
Jeopardy tournaments bring the big money
Performing well in the regular season of "Jeopardy" can snag players an invite to return for the Tournament of Champions. Although the Tournament of Champions format was altered for 2022, the classic iteration is a two-week competition that pits big winners from the prior season against each other. There are other tournament opportunities for strong players as well, such as the Greatest of All Time in 2020, which boasted a $1 million prize for first place.
Advertisement
Taking a look at money winnings from the regular season combined with tournament play, we see that champion Brad Rutter took home a total of $4,938,436 from his "Jeopardy" appearances. That's the most money ever won on "Jeopardy" cumulatively and vaults Rutter into being the winningest contestant ever, as measured in dollars. Ironically, Brad Rutter doesn't even rank in the top 10 for the number of games won, or money won in regular season play.
Ken Jennings, who we previously established is the record-holder for money won in regular season games, ranks in second place when tournament play is factored in, raking in $4,370,700. A cool $1 million of Jennings' cash haul was for winning the Greatest of All Time tournament.
Advertisement
How much can you win in a single game?
In theory, it's possible to win a whopping $566,400 during a single game of "Jeopardy." In reality, doing so is nearly impossible. To begin, a single contestant would have to answer every single clue correctly. Beyond that, it'd be a matter of luck to locate all of the valuable "Daily Double" clues under the lowest value clues and at the very end of each round. That's because finding the Daily Doubles at the end of each round would yield the largest amount to wager on a Daily Double.
Advertisement
The Hill broke this scenario down for us, for Round 1 of the game. First off, the Daily Double has to be under a $200 clue. That will leave the maximum amount on the board: that is, five $200 clues and six clues for $400, $600, $800, and $1,000. The contestant will then need to answer every clue correctly, before selecting the final $200 clue on the board, which is, in fact, the hidden Daily Double. If the contestant does all this, pushes in all their winnings up to that point ($17,800), and answers the Daily Double correctly, then, they will have won the maximum $35,600 for Round 1 of "Jeopardy."
So what's the most that a contestant has won in a single game? In 2019, James Holzhauer won $131,127. What's particularly impressive is that Holzhauer holds every one of the top 10 records for single-day winnings — all garnered during his 32-day winning streak in 2019. If you think you've got what it takes to win some serious coin on "Jeopardy," hopeful contestants can take an online "Anytime Test" at the "Jeopardy" website.
Advertisement