Starbucks Vs. Dunkin': Which Coffee Chain Is Cheaper?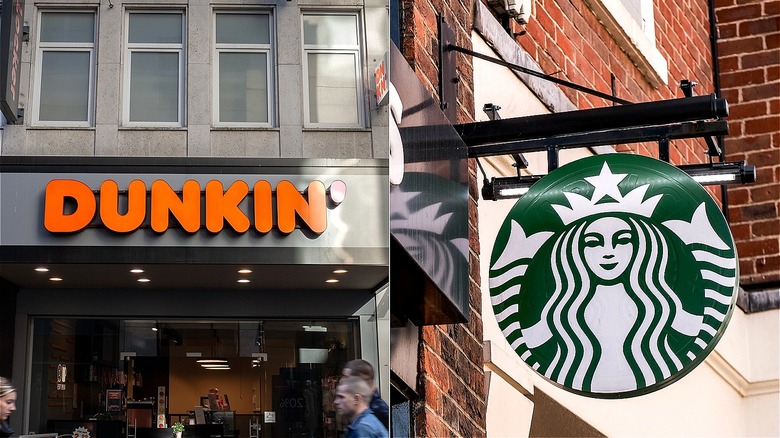 Martinrlee/Getty & Balkanscat
Choosing your favorite coffee shop has become a badge of honor and a point of pride. Being Team Starbucks or Team Dunkin' can cause hot debates and even hilarious Super Bowl commercials (we're looking at you, Ben Affleck). However, as the coffee chain debate grows, so does inflation. While you might have once enjoyed your morning coffee run on the way to work, many Americans increasingly face tighter budgets and less disposable income. As the economy struggles, it might be worth considering which of these highly debated and very beloved coffee chains is actually cheaper.
Advertisement
While Starbucks might have started by only selling coffee beans in Seattle and Dunkin' as a cafe shop in Massachusetts, both have widely expanded their brands and offerings since their humble beginnings. In fact, according to Dunkin' Donuts, you could order a different drink each day for almost 70 years (they claim they have 25,000 different ways to order your coffee), so it's no longer as simple as comparing coffee between the two brands. With donuts and food, a bevy of specialty drinks, whole coffee beans, grocery store offerings, and even exclusive merch, Starbucks and Dunkin' have both created brand empires with fiercely loyal followings.
At this point, the debate of which is "better" is impossible to determine, especially when you consider the entrenched fan bases on both sides. So, rather than wading into the war of preference, let's break down the prices between Starbucks and Dunkin' to settle the debate of which brand is cheaper.
Advertisement
Coffee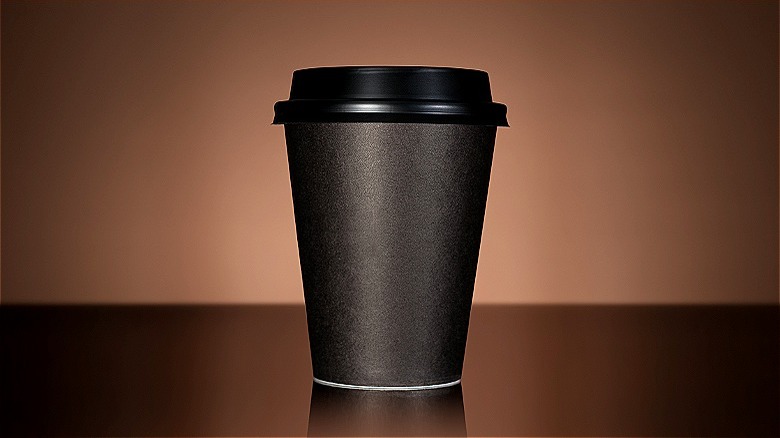 Fotografstockholm/Getty Images
While it might seem crazy that someone would walk into a coffee shop and order plain coffee these days, it's still a go-to choice for many. Regular coffee has also been given a boost with the growing popularity (and sales) of cold brew and iced coffee options. First, it's important to realize that the sizing between Dunkin' and Starbucks is different, so while the small equivalent at Starbucks (called a Tall) is 12 ounces, a Dunkin' small hot drink cup is 10 ounces. While Starbucks keeps the same sizing convention for both iced and hot beverages, Dunkin' does not.
Advertisement
For instance, iced coffee lovers looking for more volume might be excited to know that the iced coffee sizes at Dunkin' are different than their regular cup sizing for hot beverages. Dunkin' iced drink cups are actually larger than Starbucks with the small coming in at 16 ounces and the medium at 24 ounces, compared to Starbucks' 12-ounce Tall and 16-ounce Grande. This can and does affect the overall pricing of your drink when you consider the price you're paying per ounce.
On both hot and cold drip and brewed black coffees, Dunkin' is cheaper. In fact, one price comparison found that dark roast coffee, iced coffee, and cold brew were all well over 30% more expensive at Starbucks than its counterpart options at Dunkin'. So if you prefer a simpler coffee experience and typically stick to basic black coffee or iced coffee options, Dunkin' is definitely the more affordable option.
Advertisement
Specialty drinks
Chris Hondros/Getty Images
For those who prefer sweeter seasonal flavors and blended creations, specialty drinks are probably your go-to. While Starbucks truly reigns supreme in this category (it did create the monster that has become Pumpkin Spice, after all), Dunkin' has been attempting to compete in the specialty flavor arena in recent years. Seasonal flavors and frozen blended drinks have expanded on the Dunkin' menu, and these items tend to bring a higher price point than their more simple coffee-focused drinks. However, even with these higher prices, when compared to Starbucks, Dunkin' still comes in slightly cheaper. With that being said, its specialty drink prices are much closer to Starbucks' pricing than its regular coffee drinks (especially its frozen drinks).
Advertisement
It's also important to mention that when it comes to blended and frozen drinks, Starbucks tends to offer a lot more variety and menu options than Dunkin' does. Additionally, while Dunkin' has started having regular seasonal fan-favorite flavors (and even ingeniously partnered with the Girl Scouts for cookie flavors) — none have reached the same cultural frenzy level that Starbucks' PSL and holiday flavors have.
It's also worth mentioning that Dunkin' coffee offers lower caffeine levels than Starbucks coffee. However, this doesn't apply across all drinks, as some Dunkin' items do have higher caffeine levels than equivalent Starbucks drinks. If caffeine level is important to you, it could be worth researching the exact milligrams included in your favorite drink. (For anyone curious, 7-Eleven actually boasts the highest coffee caffeine level for brewed coffee.)
Advertisement
Food items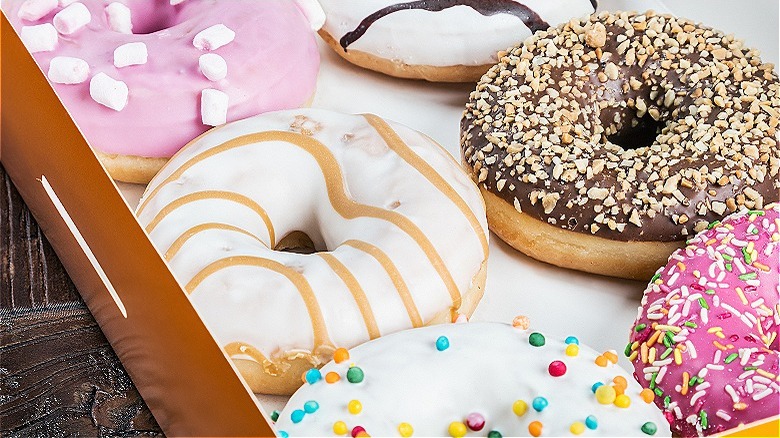 OlegDoroshin/Shutterstock
Dunkin' is, you guessed it, fairly well known for its donuts (and munchkins if you prefer). Offering a wide assortment of flavors, glazes, frostings, fillings, and seasonal decorations, Dunkin' makes it easy to scoop up an office dozen. While donuts have always been a signature part of its brand, it did drop the "donut" part of its brand name in 2019. This re-branding campaign was connected to a larger initiative to become a more beverage-focused company to better compete with brands like Starbucks. While donuts are still its main food offering, Dunkin' has expanded into sandwiches, snacks, and bagels. The price point for Dunkin' donuts is far below Starbucks' pricing for its donuts, while other items like sandwiches are closer in pricing, with Dunkin' still ultimately offering cheaper options.
Advertisement
Starbucks offers a much wider variety of food items, which can be useful for those who might not be into donuts or anyone looking for food items at other times of the day. From oatmeal to cake pops, Starbucks' food assortment offers more options for not only breakfast but also lunch, dessert, and afternoon snacks. Plus, just like with its specialty drinks, Starbucks offers fan-favorite seasonal snacks and desserts available for limited times throughout the year. All told, Starbucks offers hot breakfast items, oatmeals and yogurts, a full spread of bakery items, lunch sandwiches, protein boxes, desserts, and special treats. So when it comes to food item variety, Starbucks is the clear winner, if also the more expensive option.
Advertisement
Grocery store products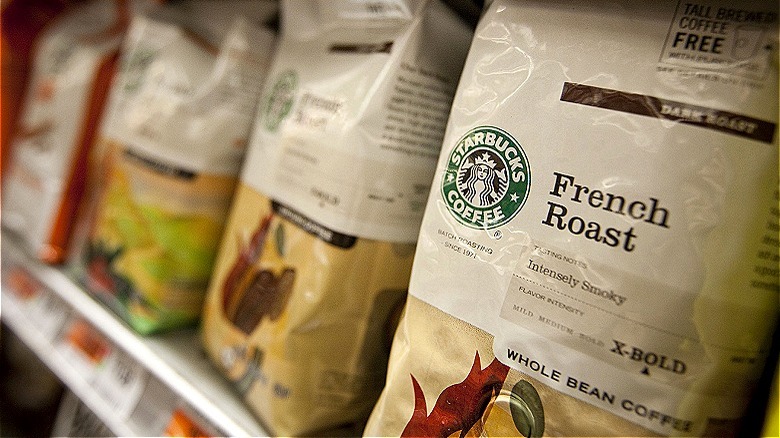 Bloomberg/Getty Images
These days, you can make your favorite Starbucks or Dunkin' coffee at home. With whole coffee beans, ground coffee, pods and cups for at-home machines, concentrates, and even pre-packaged bottles of coffee and creamers, it's easier than ever to enjoy your favorite coffee from the comfort of your own home. This can't only help you save money but can also save you time in your morning commute (or even add convenience for remote workers).
Advertisement
Prices across both brands for grocery store items can and do vary depending on geographic region, retailer, and inflation. According to data from the Federal Reserve Bank of St. Louis, the per-pound cost of coffee beans in the average U.S. city rose to $5.79 in June 2022 (compared to $4.60 in June 2021, a 20.5% increase). By the end of 2022, the price peaked at $6.47 per pound (then started to come down in 2023, though still above $6, as of September). This has affected product prices from both brands, which, when combined with the fact each brand has different product offerings, makes it difficult to say which one is overall more expensive for at-home grocery store items.
Speaking of offerings, Starbucks' at-home products remain more focused specifically on coffee, while Dunkin' has been taking much wilder swings with its product offerings. Specifically, Dunkin' waded into the alcohol market with spiked teas and coffee drinks, which are currently available in select states (with more availability coming in 2024). They have also partnered with Dymatize to create two specially flavored Dunkin' protein powders.
Advertisement
Merchandise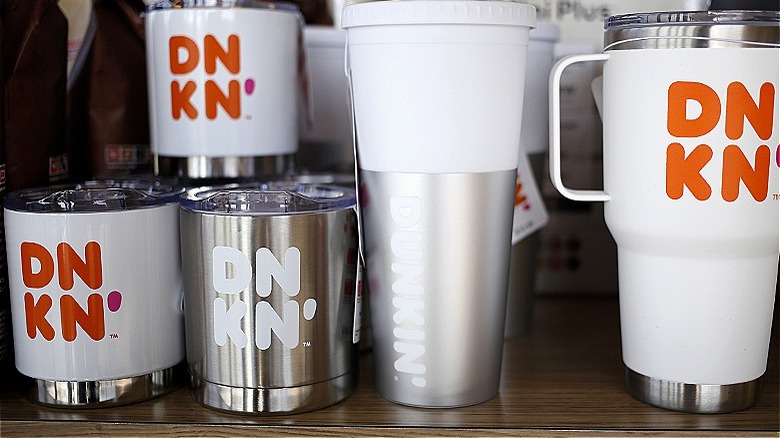 Bloomberg/Getty Images
While Starbucks' seasonal and limited-release mugs, tumblers, and cups are collectible (and, increasingly, competitive), the brand sticks mainly to coffee-related items. This includes offering branded coffee tools like French presses, scoops, and pour-over accessories. In an interesting move, Starbucks actually shut down its online merchandise store back in 2017, which means that customers wanting to get their hands on limited-release items have to head to their closest Starbucks location (or four) to find the items they want. However, this in-person-only model has been particularly successful with Starbucks' Been There series, which features special art and location names only available at select stores. This adds to the collectability of the mugs and has made them a staple purchase for tourists around the world.
Advertisement
Similar to its at-home grocery items strategy, Dunkin' is a lot more wild with its branded merchandise than Starbucks. While the company does offer mugs and tumblers, it also has an entire range of apparel and accessories. From an inflatable branded pool to fuzzy slippers to a 6-foot spider donut decoration for Halloween, Dunkin' has been highly creative with its merchandise offerings. In 2019, Dunkin also partnered with fellow Boston-based brand Saucony to create a special Dunkin' branded running shoe in honor of the Boston Marathon. The brand offerings across these two companies are so varied, it is difficult to compare pricing. With that in mind, tumbler prices are fairly equal across both brands, with Starbucks offering a lot more variability in terms of design, color, and overall options.
Advertisement