Are The Benefits Of Being A Sephora Rouge Member Worth It?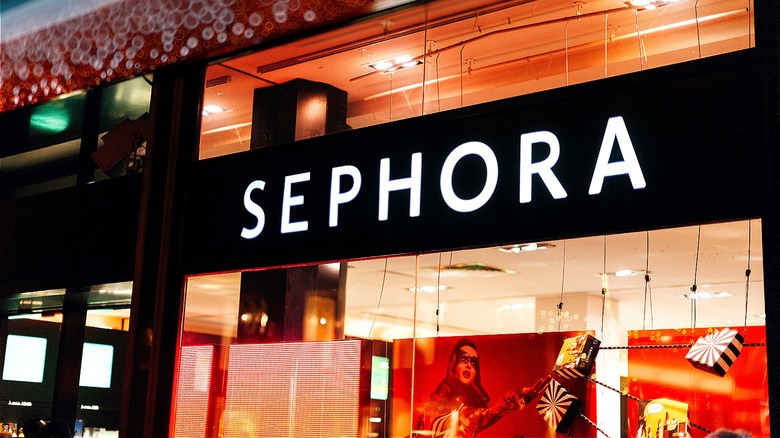 Adrianhancu/Getty Images
If you're a lover of all things cosmetics and beauty, then you've heard of Sephora. It's almost impossible not to — the beauty brand currently rules social media, with a whopping 21.8 million Instagram followers. Plus, its parent company, LVMH, was the eighth-biggest beauty company in the world in 2022 (via Insider Monkey). So, it's really no secret that Sephora currently reigns supreme. With popularity like that, who wouldn't want to get in on their rewards programs? However, the question is, are the benefits from Sephora's top rewards tier, Rouge, worth it, or would it be enough to be a VIB (aka Very Important Beauty Insider)?
Advertisement
Sephora currently offers three different tiers of rewards: Insider, VIB, and Rouge. As said, the highest — and most expensive — tier is Rouge, which is designed to reward Sephora's most loyal customers. To earn this distinction, you need to spend a minimum of $1,000 at Sephora in one calendar year, starting January 1. While some people might balk at the sheer amount of money needed to be a Rouge member, extreme beauty buffs might find the benefits — like rewards points, free full-sized products, exclusive gifts, and more — to be worthwhile.
The perks of Sephora Rouge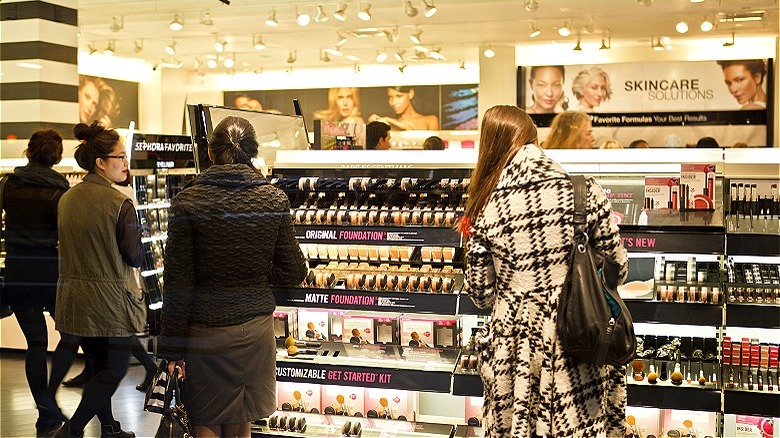 Wdstock/Getty Images
If you have to drop $1,000 in a calendar year just to join a rewards tier, then the benefits better be worth it. And for some, Sephora's Rouge will be. Rouge works similarly to other rewards programs: With every dollar you spend at Sephora, you earn one point. However, you get a lot more perks. After racking up 2,500 points (i.e., spend $2,500), you can exchange them for a $100 Rouge Reward, to spend on any and all Sephora items. Not only that, but you'll be among the first customers to receive any newly launched products, and, if you have any issues with your account, you'll have access to a private hotline reserved exclusively for Rouge members.
Advertisement
During Point Multiplier Events, Sephora Rouge members also get the best perks. During this period, all Beauty Insiders get more than the standard one point per dollar. However, Rouge members get four times the amount of points. They also get 20% off during seasonal savings events. While these are all great perks, they'll probably benefit beauty influencers the most, given the amount of money you need to join. For these shoppers, though, they will likely spend $1,000 a year (at least) anyway.
The downsides of being a Sephora Rouge member
If that doesn't sound like you — and don't feel bad, because it doesn't sound like most people — then you can join two of Sephora's other membership plans. The lowest tier (simply called "Insider") is completely free (in other words, everyone who joins Sephora's rewards programs becomes a beauty insider), while the second tier, VIB, requires you to spend $350 on Sephora products in one calendar year. Both plans give you one point per dollar spent, just like Rouge, as well as a free birthday gift from Sephora.
Advertisement
Being a Sephora Rouge member isn't all it's cracked up to be, either. The $100 Rouge Reward isn't as all-inclusive as it might seem at first glance. For one, you have to spend it within the span of 90 days, and only during a single transaction. If you can't find any other items to meet the $100 minimum, then you're out of luck. Once you use this benefit, you can't use it again, meaning that you'll lose the rest of the balance. The real kicker? You can't return any of the items. Everything you buy with the Rouge Reward is completely non-refundable, and you aren't allowed to stack discounts. The bottom line? Being a Sephora Rouge member might not be worth it if you aren't spending a ton of money at Sephora already.
Advertisement