Are Planet Fitness' Black Card Perks Worth The Price?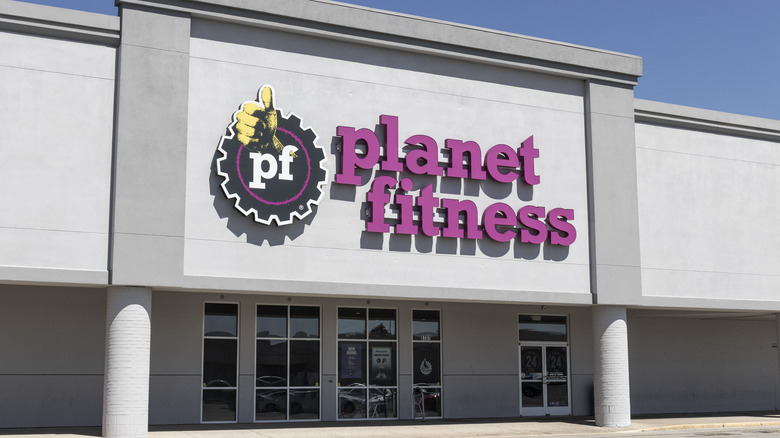 Jetcityimage/Getty Images
With just under 2,400 locations in the United States alone, Planet Fitness is the most widespread chain of fitness centers out there. In fact, a 2023 press release boasted that "more than 6 percent of all Americans over the age of 15 are Planet Fitness members."
Advertisement
Besides its casual approach to fitness and "Judgement Free Zone" slogan, a large part of Planet Fitness' appeal is its $10 per month membership rate, which has remained at the same level for more than 30 years. To be fair, there is a $49 annual fee which makes the $10 per month deal slightly less juicy, but the overall cost is still impossible to beat. According to Sports Illustrated, the average cost of a typical gym membership is over $40 per month.
However, about 60% of Planet Fitness members ignore the base rate and opt for the company's Black Card, which costs $24.99 per month plus the same $49 annual fee. The Black Card has a long list of benefits and freebies, but whether they're worth it or not really depends on your personal situation and preferences.
Advertisement
You can access any club worldwide and bring a guest
To begin, the Black Card allows Planet Fitness members to use any club in America or internationally, whereas regular members only have access to their home club. Needless to say, this can be a valuable benefit if you frequently travel for work or pleasure.
Advertisement
In recent years, with the increased popularity of full-time living in camper vans and travel trailers, some modern nomads maintain Black Card memberships for no other reason than to access the clubs' shower and restroom facilities for a quick refresh. One caveat is that Black Card members can only access locations other than their home club 10 times each month. After 10 visits in a single month, a $5 per visit fee policy kicks in.
Besides access to gyms outside your home area, holding a Black Card entitles you to bring a guest to join your workout and there are no restrictions on the number of times that you can bring someone along. If you and a friend or family member regularly work out at the same time each day, you can effectively share a single membership, which is quite thrifty. 
Advertisement
There are other perks like tanning and massage
Did you know that Planet Fitness locations have tanning facilities, massage chairs, and hydromassage beds? Well they do, and if you're a Black Card holder, all of those perks are free to use, although guests may not be eligible. This can be an especially good deal if you like to go indoor tanning for that fresh-from-the-beach look year-round. The $24.95 monthly rate for the Black Card can actually be less expensive than a membership to some popular tanning salons like Zoom Tan, plus you get the run of a fully equipped gym.
Advertisement
Joining the tanning equipment in the spa area are free massage chairs and hydromassage beds. We'll assume that everyone has seen massage chairs — an electric-powered mechanical chair that simulates traditional massage therapy — at a local shopping mall or airport but what's hydromassage? Like the massage chair, hydromassage mimics conventional massage, but uses jets of warm, pressurized water. No worries, though — the water is contained entirely inside the bed so you can use the hydrotherapy bed fully clothed.
Finally, Planet Fitness offers a 50% discount on purchases of select beverages like energy drinks or protein drinks, plus periodical discounts at select retailers like Reebok. If you're not a fan of tanning or you don't enjoy or need massages for body soreness or pain, then you might be better served with the basic $10 per month Planet Fitness membership. Ditto if you typically go to the gym alone and don't travel much. The Black Card is a great deal to be sure, but you do need to regularly use the perks for it to be worthwhile. 
Advertisement