Will Booking Through Kayak Really Get You A Better Deal?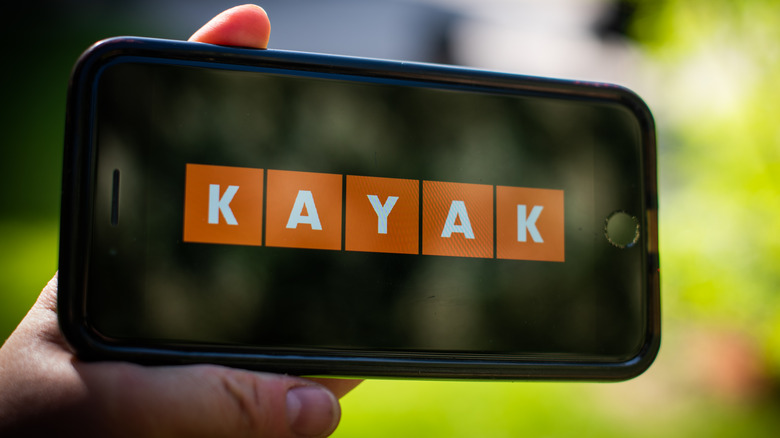 Bloomberg/Getty Images
When it comes time to book travel, it can seem like there's a limitless number of websites all claiming to have some sort of advantage over the competition. Originally named Travel Search Company, Kayak is definitely one of the most established names among travel aggregators. In fact, it's been around since 2004. During that time, Kayak has accumulated multiple brands with more than 70 websites worldwide in 30 different languages. Annually, the site performs more than 6 billion searches for its users.
Advertisement
To be clear, Kayak doesn't actually sell anything. If you select one of the search results that it provides, you'll need to book directly with that online travel agency, hotel, airline, or rental car agency.  According to Kayak, "From flights to hotels, rental cars and more, we scour the depths of the internet to find you all the ways to make your trip happen. These options might include results from online travel agencies (OTAs), discount suppliers, other search engines and the flight/hotel/rental car's own website. We bring all this information together so you have the details you need to choose what works best for you."
So, while Kayak's search prowess might be uncontested, can the site actually help you save money? The answer is a resounding "yes" — and Money Digest will show you how. 
Advertisement
Kayak displays all flight options, including hacker fares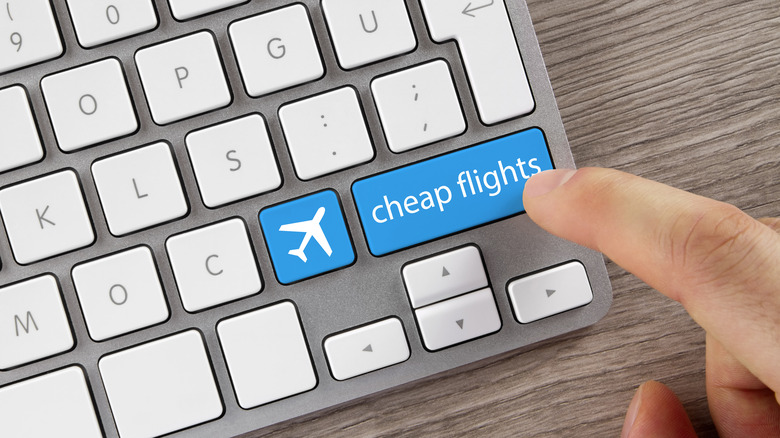 Anilakkus/Getty Images
One advantage to using Kayak versus searching directly with the airlines or some other less limber search portals is that all flights are displayed, including some unconventional booking structures that you might not have been aware of.
Advertisement
One such example is "hacker fares," which Kayak defines as, "Instead of making you book one round-trip ticket from a single airline, KAYAK plays airfare matchmaker by finding two one-way tickets that together make a round-trip flight. Sometimes that means you might take a different airline home than the one you took to your destination. Other times, it's the same airline, but they have you in the system as two one-ways." The company continues, "Either way, you'll get there and back while usually paying less than you would if it were a regular round-trip flight."
Interestingly, Kayak also displays ads from Southwest airlines, which is not something that all travel aggregators do. Although not always the cheapest, many fliers swear by Southwest for its liberal change or cancellation policy, as well as giving passengers two checked bags free of charge.
Advertisement
Take advantage of price alert and price forecast tools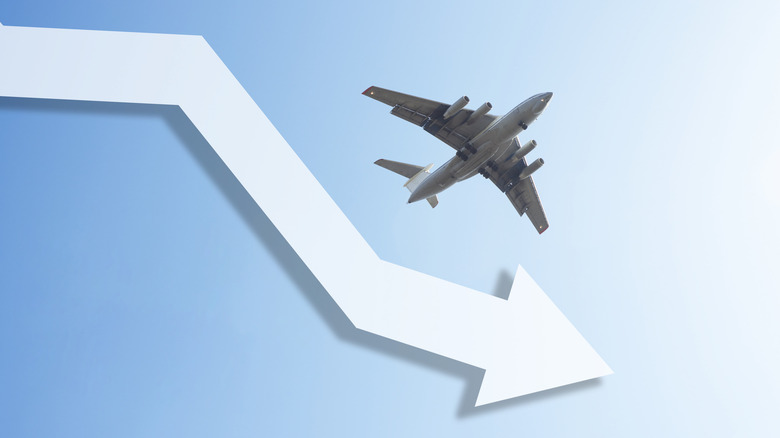 Nikolay Ponomarenko/Getty Images
Savvy travelers know the best times to book airfare, which is a great place to start, but those guidelines aren't always consistent across all airlines and routes. As a supplement, Kayak offers its Price Forecast tool which displays to the left of the results of your airfare search query. The Price Forecast tool uses data from over one billion searches per year to recommend that you buy now or wait if prices are anticipated to drop later.
Advertisement
If you do decide to wait in order to score the best deal, you can set up a Price Alert with your parameters. Kayak will periodically conduct a search for you — even when you're offline — and send an email or text message if prices fall. Better still, both the Price Forecast and Price Alert tools can be used when making rental car arrangements, not just flights. For lodging queries, only the Price Alert is available. 
Save with a vacation package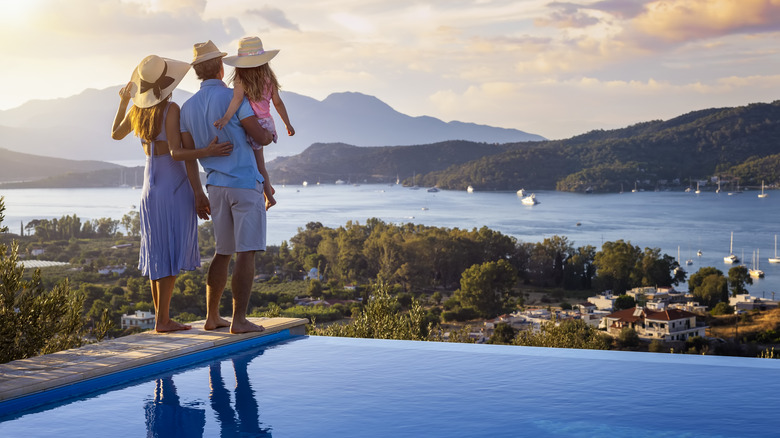 Shansche/Getty Images
Like the name implies, package deals allow travelers to bundle their flight and hotel stay together for a savings. Kayak brags that users can save up to 32% by bundling their travel into a package. The travel rewards website UpgradedPoints set out to test that claim with a mock booking for a five-night hotel stay in Las Vegas, coupled with a round-trip flight  from Boston. When booked separately, the hotel and round-trip flight totaled $1,167.97 while the package price was $800.86. That's a savings of $367. Besides saving money, some users find it convenient to have everything viewable in one reservation.
Advertisement
Similarly, you can sign up to receive emails from Kayak, including its Private Deals which can save users up to 35% on a variety of different types of travel. As mentioned by Forbes, "Even though you can't book directly through Kayak, travel carriers know that Kayak drives a lot of business their way and exclusive Kayak deals can help the price-savvy traveler coming back for more savings."
Use the freebies filter to score free hotel perks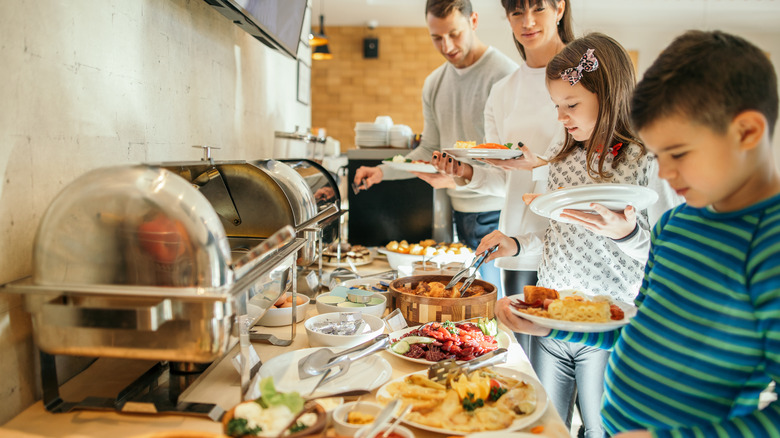 Miljko/Getty Images
Who doesn't like a free breakfast when on vacation, especially when you only have to trudge down to the lobby in your slippers to claim it? After you initiate a hotel search by location and date, you can look for the "freebies" filter on the left side of the search results. Besides free breakfast, you can also search for free parking, free cancellation, free airport shuttle, and more.
Advertisement
Returning to that free breakfast for a moment, some hotel breakfasts may be continental, which typically include muffins, toast, or other baked goods, plus fruit, juice, coffee, and perhaps yogurt. While that's definitely better than nothing, heartier eaters might seek out hotel options like Holiday Inn Express, Hyatt House, or Hyatt Place, to name a few. These chains have hot items like scrambled eggs, omelets, and a protein such as bacon or sausage so you can get fortified before your busy day of sightseeing begins. Go ahead and steal that piece of fruit for a snack later — we won't tell. 
It makes it easier to plan group travel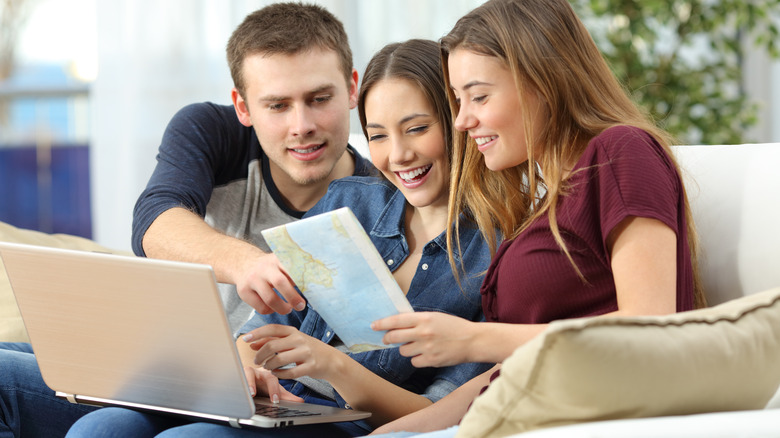 Antonioguillem/Getty Images
Rather than an endless series of text messages to coordinate that group vacation with friends or relatives, Kayak lets you share your plans on the website or app, with the option for the shared parties to edit the itinerary or just view it. After booking a trip with the travel aggregator, only you may view the trip by default. To change that setting, view the summary of the trip, then click "share this trip " near the top. 
Advertisement
When you decide to share your trip with someone, you'll have the option to allow that person to just view the arrangements or be actively involved in planning by allowing them to make edits to the trip. If there's someone that you want to share every newly booked trip with by default, you can do that too by clicking "Share new trips with..." from the trip settings page.
Sharing a trip isn't only useful for others that might be going on the trip. It's equally handy if you want to share your itinerary or flight or hotel information with friends or relatives that you might be visiting.